| | |
| --- | --- |
| | This site is owned, designed, and operated by Kenneth A. Larson who has over a quarter century of experience in design and construction of scenery for the Entertainment Industry and Theme Parks using Computer Aided and Traditional approaches to Design. Ken also has experience in other areas of Design. |
Select photographs of my many visits to The Missions of the United States South and Southwest built by Spain and Mexico between 1565 and 1823.
All photographs taken by Kenneth A. Larson. All rights reserved. © 2008 - 2013.


#17, San Fernando Rey de España
Founded September 8, 1797
by Father Fermin Lasuen.
Los Angeles, near San Fernando.
Personal Observations

Although San Fernando Mission is closest to my home, and I drive past it often, it took a while for me to get to know this mission. This mission is larger than many and has a number of exhibit spaces. The mission lacks the iconic church facade as most of the other missions do. The modest bell tower blends into the church and is almost unnoticeable. The Convento is the mission structure closest to being an icon for the mission. The Convento's twenty-one Roman arches line the side that faces San Fernando Boulevard and is often photographed. Like most of the missions in the larger cities, it is lost amid the urban sprawl.

Mission Art & Photo-Art
Named for Saint Fernando, King of Spain, San Fernando Rey de España was the seventeenth mission built in Alto California. While intended to fill a gap between San Gabriel Arcángel and San Buenaventura, it is much closer to San Gabriel Arcángel. It is built in a quadrangle, similar to other missions, in which the church makes up one corner. Unlike at other missions, the convento stands apart of the quadrangle and is the largest adobe structure in California.

Like many other missions, grapes and wine making were a major industry at San Fernando. In addition to 30,000 grapevines, the mission also had 21,000 head of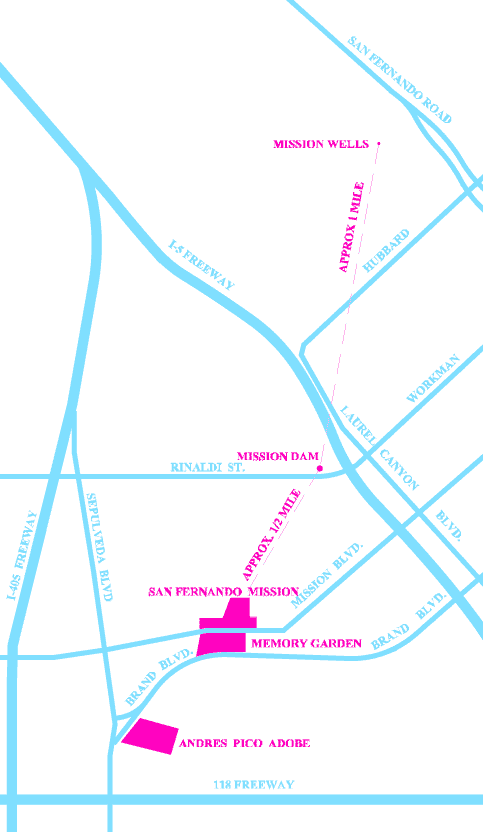 livestock. Leather goods and tallow were major products produced at San Fernando Mission.

Secularization was not kind to Mission San Fernando. The roof tiles were removed for use on other buildings leaving the adobe walls unprotected to melt back into the earth. A nearby gold discovery brought hungry gold prospectors who dug up the floor of the church pursuing false rumors that gold was beneath the church.

Mission San Fernando has survived many earthquakes, including 1812 when the church was severely damaged, and more recently 1971 and 1994. I personally experienced the last two.

Mission San Fernando is now a functioning parish church and holds regular mass.

While originally Mission San Gabriel was closest to modest the pueblo of Los Angeles, Mission San Fernando is now the only mission within the giant City of Los Angeles.

A few hundred feet away is the Andres Pico Adobe, the second oldest home in Los Angeles, which began as a store house for Mission San Fernando.
Address and Directions
15151 San Fernando Mission Blvd.
Mission Hills, CA 93145-1109.
Phone: 818-361-0186.
Finding Mission San Fernando Rey de España from I-5 is easy. The mission is midway between two major freeways, I-405 or I-5, along San Fernando Mission Boulevard. Exit I-5 at San Fernando Missions Boulevard going west. If you are coming on the I-405 north, exit Rinaldi (which actually exits onto Sepulveda) and turn right onto Sepulveda and left onto San Fernando Mission Boulevard. If you are on the I-405 south, exit Rinaldi going east (left), turn right onto Sepulveda and left onto San Fernando Mission Boulevard.
Photography Gallery
| | |
| --- | --- |
| South side of church. Photo date: 8-8-04. | Interior and alter of church. Photo date: 8-8-04. |
San Fernando
Mission
Main Page
This page last updated: Thursday, 29-Oct-2015 09:42:16 EDT
Note:

This is not the official site for any of the places shown in US Mission Trail. US Mission Trail is not responsible for accuracy of the information. Hours of operations, prices, and exhibits are subject to change without notice.
Support this Web Site


I hope that you find this web site helpful. It started because of my love for the California Missions and interest in History. I don't allow paid advertising (but this may change). This web site is for your benefit and enjoyment and I make no profit on it. For ten years it has been supported primarily from my regular paycheck as a Set Designer and there haven't been many the last few years. I can no longer run it without help. Alternative funding is needed. A non-tax deductable donation helps cover the cost of operating this web site and may be made to Kesign Design Consulting through PayPal.

Buy my Photographs or Art.



Or donations can be mailed to the address on the contact page.
If you are in the need of a designer, please see my portfolio site www.kesigndesign.com.

or Set Design Portfolio.
This site maintained by Kenneth A. Larson.
Copyright © 2004 - 2017, Kenneth A. Larson. All Rights Reserved.
Website content including photographic and graphic images may not be redistributed for use on another website.