| | |
| --- | --- |
| | This site is owned, designed, and operated by Kenneth A. Larson who has over a quarter century of experience in design and construction of scenery for the Entertainment Industry and Theme Parks using Computer Aided and Traditional approaches to Design. Ken also has experience in other areas of Design. |
Select photographs of my many visits to The Missions of the United States South and Southwest built by Spain and Mexico between 1565 and 1823.
All photographs taken by Kenneth A. Larson. All rights reserved. © 2008 - 2013.


#21, San Francisco Solano
Founded July 4, 1823
by Father Jose Altimira.
Sonoma.
Personal Observations

I was very much looking forward to seeing Mission San Francisco Solano in its restored state and without construction equipment in front. As I walked up to the mission and saw the front of the church, I said to my wife with disappointment, "They are re-roofing the mission." We immediately started planning our next visit. We plan to revisit this and several other missions, but for now, we have completed our Mission Trail Today.
Photo-Art Mission Art & Photo-Art
Mission San Francisco Solano was the last mission founded and the last link in the chain that extended to the southern tip of South America. It was the only mission built by Mexico and the only mission founded prior to receiving church authority. Because if was so short lived, it is not as large and decorated as most fo the other missions, yet today is superior to some. On the positive side, the mission is part of a State Historic Park that included several buildings significant in California history. The Bear Flag was first flown here and it could be argued that modern American-California began here. Other historically significant architecture can be found in Sonoma and your admission to the Historical Park includes admission to another adobe in Petaluma. Sonoma is a tourist destination in the heart of the Wine Country. It is unfortunate that many people are looking for wine as they pass, scarcely noticing, significant pieces of California history all around them. On the Memorial Day weekend that we visited, we were probably the only adults not looking for a winery.
History
Mission San Francisco Solano, built six years after San Rafael Arcángel, was the only mission built by Mexico after its independence. It was also the only mission founded without the prior approval of the Church. Mission San Francisco Solano was built to strengthen Mexico's hold on the territory as Russian development was moving south. Built in 1823, it closed eleven years later in 1834.

The present chapel was built in 1840, and has been restored many times. The Landmarks League purchased the chapel in 1903. It suffered further damage during the 1906 earthquake. In 1926, it was purchased by William Randolph Hearst, who restored it in 1944, and then donated it to the state.
Address and Directions
114 East Spain Street
Sonoma, CA 95476

Between Santa Rosa and Napa on State Highway 12

Open 10:00 am-5:00 pm
Photography Gallery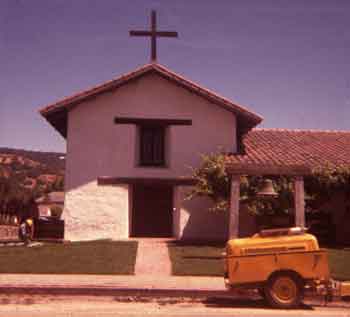 Front. June 1971. For many years, this was my only photo, taken from a car window.

| | |
| --- | --- |
| Photo date: 5-29-04. | Photo date: 5-29-04. |
| | |
| --- | --- |
| Photo date: 5-29-04. | Photo date: 5-29-04. |
| | |
| --- | --- |
| Photo date: 5-29-04. | Photo date: 5-29-04. |
| | |
| --- | --- |
| Photo date: 5-29-04. | Photo date: 5-29-04. |
| | |
| --- | --- |
| Photo date: 5-29-04. | Photo date: 5-29-04. |
| | |
| --- | --- |
| Photo date: 5-29-04. | |
gallery links here
This page last updated: Thursday, 29-Oct-2015 09:27:43 EDT
Note:

This is not the official site for any of the places shown in US Mission Trail. US Mission Trail is not responsible for accuracy of the information. Hours of operations, prices, and exhibits are subject to change without notice.
Support this Web Site


I hope that you find this web site helpful. It started because of my love for the California Missions and interest in History. I don't allow paid advertising (but this may change). This web site is for your benefit and enjoyment and I make no profit on it. For ten years it has been supported primarily from my regular paycheck as a Set Designer and there haven't been many the last few years. I can no longer run it without help. Alternative funding is needed. A non-tax deductable donation helps cover the cost of operating this web site and may be made to Kesign Design Consulting through PayPal.

Buy my Photographs or Art.



Or donations can be mailed to the address on the contact page.
If you are in the need of a designer, please see my portfolio site www.kesigndesign.com.

or Set Design Portfolio.
This site maintained by Kenneth A. Larson.
Copyright © 2004 - 2017, Kenneth A. Larson. All Rights Reserved.
Website content including photographic and graphic images may not be redistributed for use on another website.